Beginner Kids Karate Classes Enrolling In April
Top Gun Self Defense and Fitness offers two amazing Kids Karate programs that are designed to develop happy, well-rounded, disciplined kids and young adults.
Top Gun Self Defense and Fitness Kids Karate classes in Manhasset are a fun and exciting way to teach your child the important life skills and work ethic they will need as they mature into young adults and beyond.
Give Your Kid A Kick Start With Kids Karate Classes In Manhasset!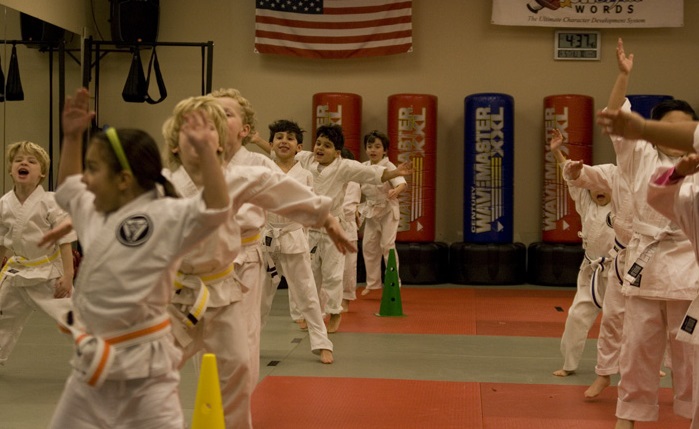 Little Dragons (Ages 4-6)
Top Gun's Little Dragons program is specially designed for kids age four to six. Our program emphasizes life skills which are of great importance to this age group, including self control, focus, balance, coordination, memory, teamwork, confidence, and more. These classes are 30 minutes of action that are designed to challenge and excite.
Our Karate Kids program is designed to build kids from the "inside out" by developing children's confidence, self-discipline, self-esteem, and "can-do" attitude. While we develop children's physical skills, we also stress the development of common sense, self-control, and a healthy lifestyle. Our goal is to build children with strong bodies and strong characters who value honesty, courtesy and can say "no" to unhealthy peer pressure.
Give Your Child An Edge And See Results For Life!
Fill out the short form on the side of this page to get all the information you need to get your child signed up for our Amazing Kids Karate classes today!
Benefits of Manhasset kids karate
Greater Overall Health & Fitness
Better Goal Setting Skills & Perseverance
Improved Hand-Eye Coordination & Motor Skills
Higher Levels Of Respect
Increased Focus & Concentration
Learn Effective Bully Prevention
kids karate Program Age Groups
From Age 4 To 6 (Little Dragons )
From Age 7 To 15 (Kids Karate)