Learn Self Defense and Get In Amazing Shape! April Specials! Krav Maga Classes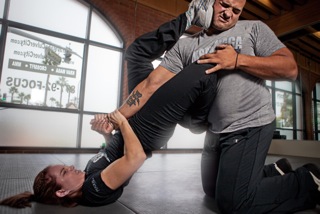 Top Gun Self Defense And Fitness' Krav Maga system was designed to bring students to a high level of proficiency in a relatively short period of time. There are no forms (katas) or rules or set combinations as reactions to attacks. Instead, Krav Maga training focuses on teaching simple self protection techniques which are specifically catered to reality based attack situations.
The art of Krav Maga is much more than a survival system dealing with personal safety issues. It is considered to be a modern, highly refined, street fighting system that is designed to be used against armed and unarmed attackers.
Get Fit And Go Home Safe With Manhasset Krav Maga Classes!
Our Krav Maga classes address a wide variety of aggressive acts which include punches, kicks, chokes, bearhugs, headlocks, grabs, as well as defenses against multiple attackers and assailants armed with a firearm, edged weapons, or blunt object.
At Top Gun Self Defense and Fitness in Manhasset, our Krav Maga training stresses the ability to react when surprised. Techniques and training methods emphasize the ability to function from a poor state of readiness, and to move from a passive to an aggressive state immediately in order to fight back and survive. Training methods teach students to react effectively under stress and to move efficiently from a position of disadvantage to a position of advantage.
Get Into Battle Ready Shape At Top Gun Self Defense And Fitness!
To learn more about our amazing Krav Maga program, please take a second to fill out the sign up box and you will have all the information you need to get signed up today!
Benefits of Manhasset krav maga
Learn Effective Self Defense Techniques
Increased Focus & Concentration
Increased Endurance & Stamina
Gain Confidence & Self-Esteem
Learn Discipline & Self-Control